Teacher Education is a Core activity of The Gnostic Centre. The Centre has been on the panel of Delhi University since 1998, to offer Self-development programs for Bachelors of Elementary Education (BElEd) teacher students. It has worked with over 500 educational institutes to provide teacher education institutes and in-service teachers from around India – at school as well as university levels. It has also worked with teacher-students of B.Ed. and DIET programs.
The Centre has a team of experienced teacher educators who also have hands-on experience of working with children as well as high school and university students. The Centre also creates educational resources – of which an audio-visual (A New Education for a New India) and a book (The Mother on Education: From Reflection to Action) have been taken up by National Council for Teacher Education to be used by all teacher-education institutes in India.
The Teacher Education programs of The Gnostic Centre aim at creating a shift from Teaching to Facilitation. They introduce an integral paradigm of education to the practitioners. The programs are designed in consultation with the teacher training coordinator from the educational institute, so as to ensure that they are self-directed and based around the needs of the participating teachers.
It is encouraged to hold the workshops at the Centre as the serene surroundings and the quiet beauty of the Centre lend to reflection and study. The campus has multiple settings making it possible to offer a multi-sensorial experiential learning.
Some of the Schools & Colleges the Centre has worked with
Adarsh Public School
Amity Institute of Education
Apeejay School (Saket)
Army Public School (Noida)
Delhi Public School (Mathura Road)
Gargi College
Happy Model School
Institute of Home Economics
Jesus & Mary College
Kendriya Vidyalayas
Lady Shri Ram College for Women
Mirambika School
Modern School (Barakhamba Road)
Ryan International School
Sanskriti School
Sardar Patel Vidyalaya
Scindia School (Gwalior)
Seth MR Jaipuria School (Lucknow)
Springdales School (Pusa Road)
Sri Aurobindo Memorial School (Hyderabad)
The Heritage School (Gurgaon)
The Mother's International School
Vivekananda College
Pre-Service Teacher Education
For B.El.Ed., B.Ed., DIETs, NTT
Communicating without Walls
Competition & Cooperation
Conflict Resolution
Connecting with Nature
Creativity in Education
Designing an Ideal School
Fear & Trust
Group Dynamics
Overcoming Anger & Inconfidence
Understanding the Self
Etc.
BElEd – Planning (sample)
BElEd – Student Submission (sample)
In-Service Teacher Education
In 2000, the Gnostic Centre organized a 4-day National level Conference on Integral Education: A New Education for a New India. Over 400 educators (teachers, principals, counselors) participated from over 111 educational institutes. The Centre continues to provide teacher education inputs to several schools and colleges.
Sample Workshops
Attitudes of a True Teacher
Dealing with Stress through Meditation
Designing Worksheets Creatively
Developing Empathy & Compassion in Oneself & the Team
How to Bring up a Child
How to Improve the Quality of Primary Education
Introduction to Integral Education
Meditation & Concentration
Self-development & Education
Teacher as a Catalyst of Change
The Future of Education
The Three Principals of True Teaching
Faculty Workshop – Readings (sample) – with MR Seth Jaipuria School (Lucknow) & Jaipuria School of Management faculty (Lucknow)
Integral Teacher Education
The base of the Gnostic Centre's intervention in mainstream education is its own innovations in Integral Teacher Education. Regular training sessions are held for the Centre's preschool, L'avenir team. Special courses are offered to train the participants in the Integral Education methodology.
A L'avenir Teacher's Self-reflection
Sample Courses
Foundation Course for Facilitators: This experiential course aims to evoke in the participants true knowledge and attitudes of an integral facilitator – one whose teaching emanates from self-learning. The course methodology is summarised in these words: Learning from Within. It introduces the participants in-depth to different faculties of the Mind, the Vital and the Physical and leads them into a journey of self-exploration. It also facilitates an understanding of learning stages, as well as important shifts in planning and pedagogy from teaching to facilitation.
Scripting Pathways of Change: Defining your own narrative (a 12-week blended course)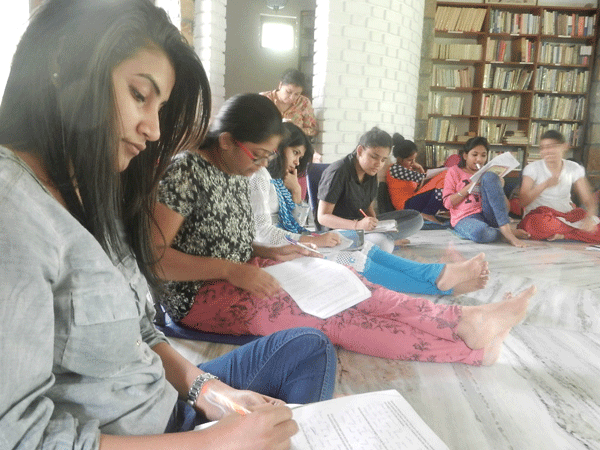 Pre-service Teacher Education workshop for Delhi University B.El.Ed. students
'Write-Dance' workshop for In-service Teachers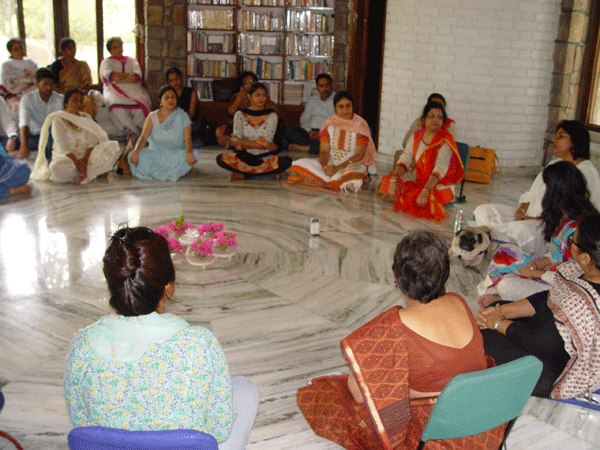 In-service workshop for Mother's International School teachers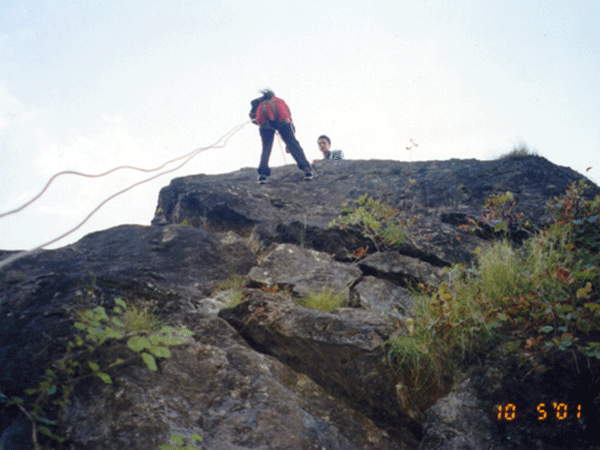 Self-development Residential camp for pre-service teacher students
"The workshop for the teachers at the Gnostic Centre had been an exercise that benefited us immensely. It not only developed ourselves at personal level but also at much comprehensive level of influencing our students and our families who are always in close proximity with us. The meditation that called for peace and dynamic meditation helped us to realize that God who resides not only in the exterior world but also right within the deep crevasses of our being. The continuous will to feel His presence and to aspire to transform us so that all our defects and shortcomings be erased from our lives, formed the very essence of this workshop. This indeed had so profoundly benefited us that we teachers at "Amity Saket" had a three hour long session with our colleagues and put the wheels of thought into force and practice. We shared our experiences and tried to show them that flame of self-realization was only through meditation – That flame we so ardently felt and realized ourselves."